Neighbourhood – an aptly named restaurant in the heart of East London's latest neighbourhood, The Olympic Village. Following my visit to the newbie eatery by Faucet Inn in Stratford, I understood straightaway where the name comes from. The decor was tasteful with floor to ceiling windows bringing in the rays of sunshine, bold coloured furnishing that'll make leave you feeling incredibly blissful. Each table was equipped with fresh plants that helped create a feel-good atmosphere. With provenance at its heart, the food was everything you'd expect from what can be dubbed as the local pub.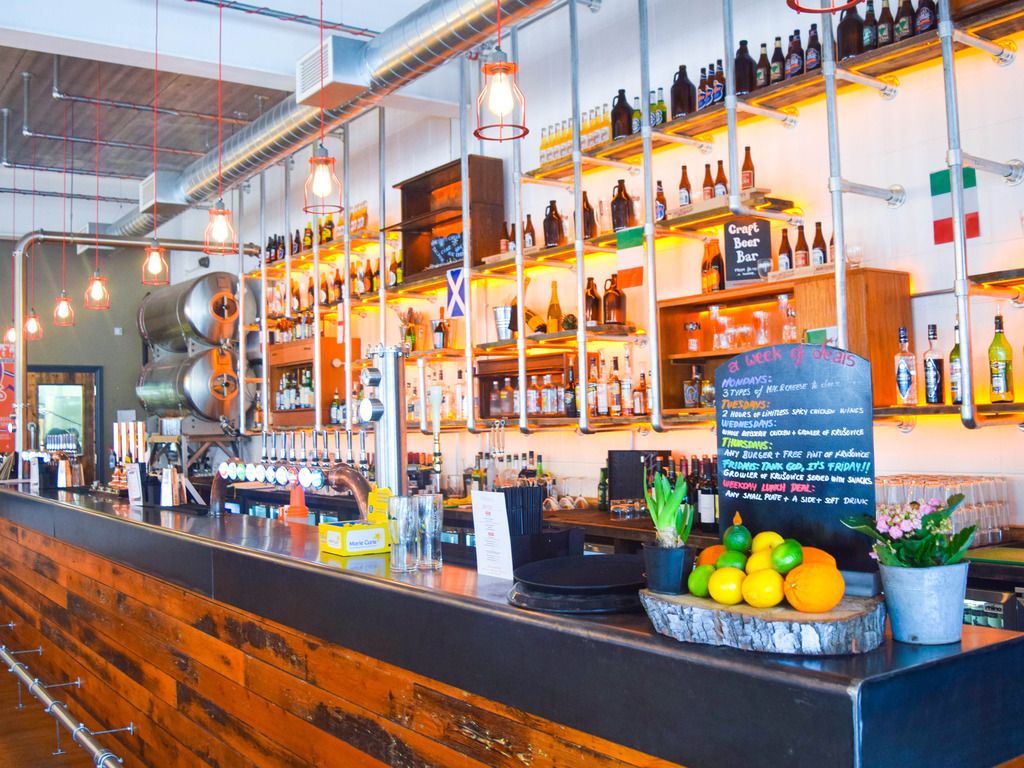 Meat lovers rejoice, the main menu  created by Head Chef Blair Macan and Executive Chef, Vagner Matos is right up your street. It features a Robata Flame grill that carefully prepares grilled offerings like whole roasted chicken, lamb, steak and ribs. Veggies, fear not options like the Robata Grilled Aubergine with Pepper, Portobello Mushroom and Sweet Potato or  Corn Burger with Sweetcorn, Polenta, Manchego, Chilli + Coriander Patty, Beef Tomato and lettuce might tickle your fancy
To prep our tastebuds for the mains, friend and I ordered the Spicy Mac 'n' Cheese made with Shredded marinated rotisserie chicken and tabasco cheese sauce as well as the BBQ Pork Hash made with Shredded pork, sweet potato and crispy red onion. I have to say the Mac and Cheese was the best I've ever had. It was the right mix of crispy yet creamy – I absolutely enjoyed it, so much so that I've bought ingredients to try make it at home!
For mains, I ordered what I always do when I see it on a menu, Pork Ribs and Chicken combo. However, my friend who doesn't eat pork, played it safe and asked for a chicken burger made with Buttermilk Chicken Breast, Beef Tomato, Gem Lettuce + Ranch Dressing. To our disappointment, these did not arrive in a timely manner. We waited and waited  before our meal arrived almost 30 minutes later. I'm not huge on complaining and neither was my friend so we stayed quiet and delved into the food in front of us. 
Bar the Mac and Cheese from the smaller plates menu and the rustic cut chips, it was truly unfortunate that the rest of our food was not as tasteful as the decor. I was saddened by the fact that my combo meal was not served with chips and I had to keep digging into my friends. On the day I assumed my meal was only served with slaw, however after perusing the menu again online, all I have to say is where were my chips?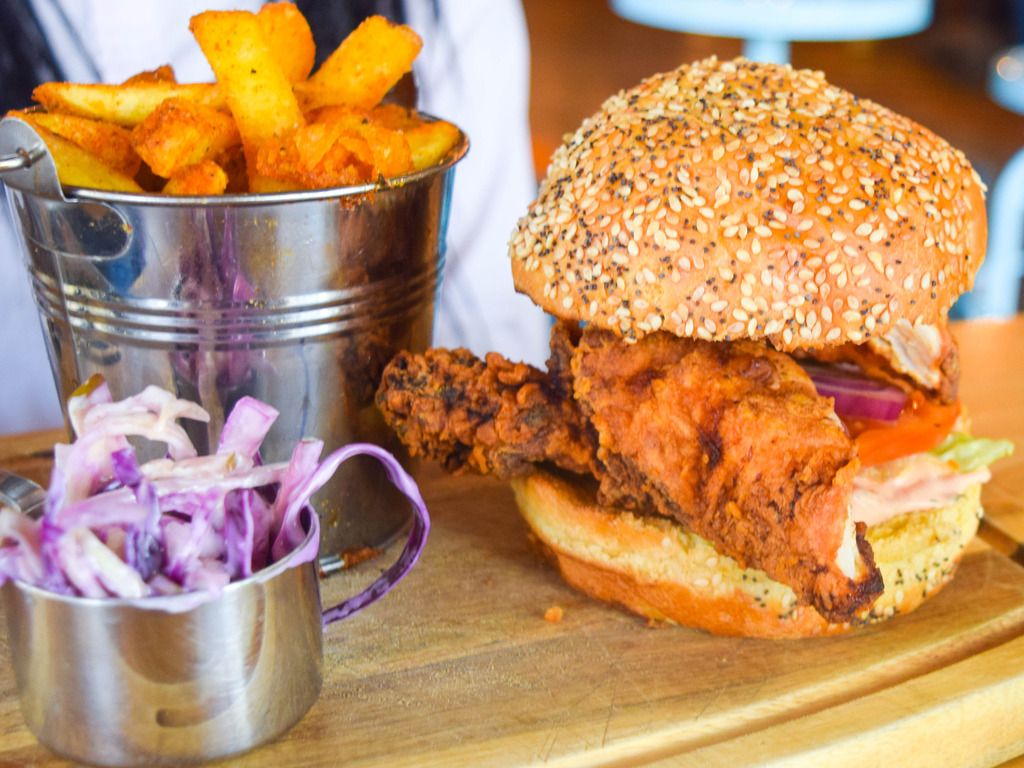 I read somewhere that the menu at Neighbourhood was created to be enjoyed with friends and shared in groups – this couldn't be any truer. As we sat feasting, a group of eight or more arrived to tuck into some lunch time offering. I kept peeping at their table trying to suss out the meals they opted for. I was so besotted with the games table at the entrance. There were so many to chose from and sofas to sit on and while away time with friends or family.
We noted that the venue is still at the learning stage so hold no fault to them. At the end, the manager was kind enough to come over and apologise before we left.  That definitely put them in my good books. Whilst Neighbourhood may not be my first choice for meal out – simply because it's not in my neighbourhood ( see what I did there) if I'm ever in the area, I'll be sure to head there for a drink. The large bar played host to a range of drinks from cocktails and  artisan beers to selected international wine list.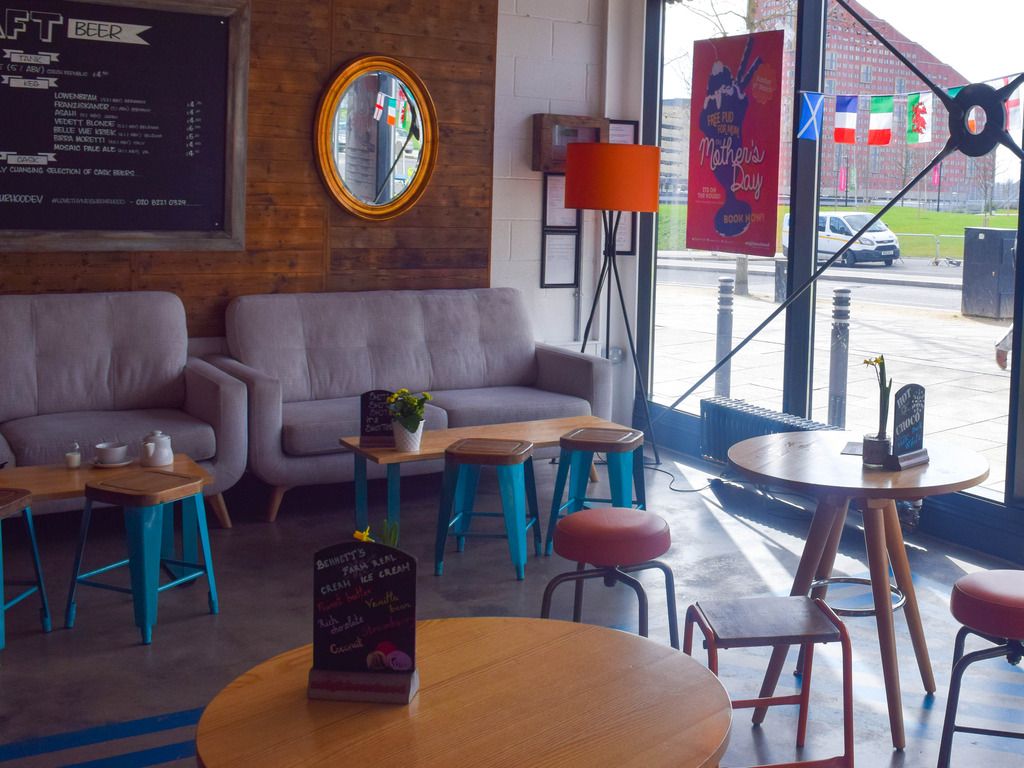 Neighbourhood, Celebration Avenue, East Village, London, E20 1DB